A trailblazing story! That is how we could describe our journey in this highly competitive, fast paced and ever changing auto industry.
COMPANY HISTORY
Autoline Industries Ltd (AIL) (incorporated on December 16, 1996, as Autoline Stampings Private Ltd.) was initially set up in January 1995 as a partnership firm known as "Autoline Pressings" under Indian Partnership Act 1932.Our Company has grown into a medium sized engineering and auto ancillary Company, manufacturing sheet metal components, sub-assemblies and assemblies,Foot Control Modules, parking brakes, hinges, cab stay and cab tilt, exhaust systems, tubular structures, fabrications, etc. for large OEMs in the Automobile Industry. The turnover of 1.10 million in financial year 1995-96 and raised up to 8050 million in financial year 2012-13.We are a prominent Pune based leading auto components manufacturer and supplier to Original Equipment Manufacturers (OEMs) and Automobile companies with presence in the Domestic and ternational markets. The Company has different business
divisions as below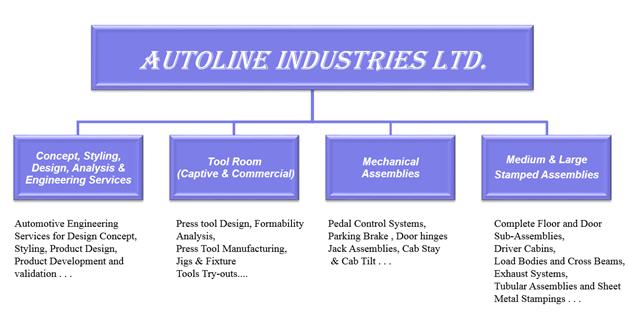 Autoline Industries Limited is listed company on BSE & NSE, with state of art more than 10 manufacturing facilities backed up with in-house design & engineering services and commercial tool room. Company is catering to almost all global OEM's supplying over 3000 products getting assembled into different passenger cars and commercial vehicles.
All the manufacturing facilities have been certified as ISO/TS 19649:2002 by TUV (Rh), Germany

Our Growth Path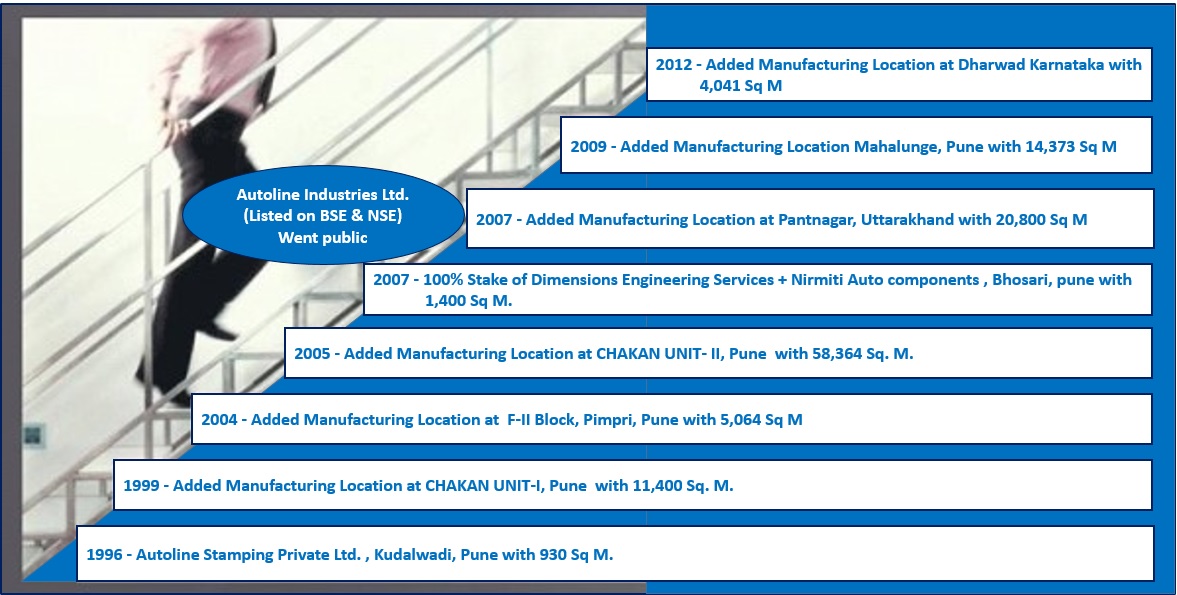 Our Strength:
Manufacturing parts from 1g to assemblies till 400 kg
Manufacturing parts with wide material thickness range
Manufacturing parts from prints (Customer Design) and with our own design
Capable of design and manufacture proprietary products like pedal box, parking brakes, hinges, screw jacks, cab stay & cab tilt…etc.
In-house stamping facility with presses from 50 Ton to 2000 Ton
Capacity to handle tool size up to 2.5 m x 4m
Advance robotic welding facility
Dedicated design and engineering unit with latest CAD & CAE software for designing of product, press tool and jigs &fixture
Second largest tool room in pune with 60,000 Sq. Ft built-up area, equipped with ultra-modern CNC & dedicated presses for tool tryouts
Certified with various quality systems such as TS16949, OHSAS 18001, ISO 14001, Formal Q (Volkswagen), QSB (General Motors), MONOZUKURI & ASES (Renault-Nissan), Formal Q (FORD)
In-house testing and validation facility for testing of our own proprietary products.